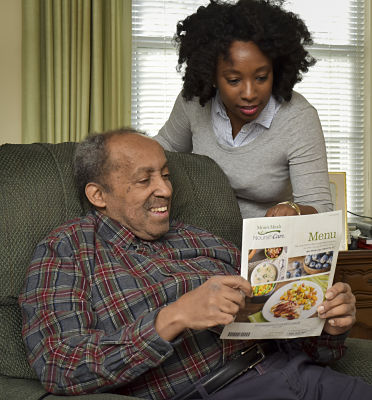 Back in 1976, when William Reid and his mother bought a three-bedroom house in the District's leafy Chevy Chase neighborhood, he imagined living there with his future wife and children—maybe even a son who would carry on the family name. But that was not to be.
Instead, 41 years later, William lives alone. After a long career as a regional economist at the U.S. Department of Commerce, he took early retirement because of health challenges. His mom, who for many years cooked his favorite dishes—like pork and beans, sautéed liver, and homemade cakes and pies—passed away 20 years ago.
His debilitating psoriatic arthritis (the same thing professional golfer Phil Mickelson has) makes shopping and cooking difficult, if not impossible. He's had both knees and both hips replaced and lived with club feet since birth.
Having given up driving a year ago, William's world is shrinking. On a good day, the 74-year-old moves from his living room to the adjacent porch to use his computer, which serves as a lifeline to the outside world. He rarely leaves the house.
"I should have learned to cook," he admits. "But I was an only child and my mother spoiled me." Immediately after her death, William resorted to eating breakfast at McDonalds, going to the local food court, and ordering take-out Chinese food or pizza. He taught himself to use the microwave to heat up frozen meals. As a result, he gained weight, developed diabetes, and blood clots. That was a low point.
The high point was learning he was eligible to receive home-delivered meals through Iona. In partnership with the DC Office on Aging, Iona arranges for the delivery of 10 nutritious meals to his door every other Friday. (William supplements that with food delivered by a local grocery store.)
Older adults are particularly vulnerable to the effects of poor nutrition, hunger, and food insecurity. Last year, 220 older adults received 47,292 meals through Iona. Like William, many of the recipients live alone.
"The meals are healthy, there's good variety and, most importantly, they taste good," William says. His favorites include the apple-walnut oatmeal breakfast and the home-style meatloaf dinner. In addition, every Saturday an Iona volunteer delivers a hot meal ready to eat and a cold meal for later in the weekend. "Sometimes parents bring their children to the door: he says. "It's wonderful to see a cheerful face on a Saturday morning! I don't think they have ever missed a Saturday."