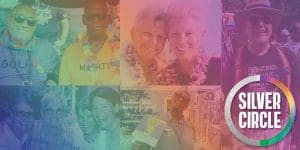 Silver Circles are peer-led support groups for LGBTQ people over 60. In partnership with Whitman-Walker Health, Iona has been offering these groups for more than a year. The groups are funded by a grant from the DC Department of Aging and Community Living and private funds raised by Iona.
Most of the groups still have room in them! If you identify as LGBTQ, consider joining a group to meet new people and share information about this stage of life.
The peer facilitators were trained to create a safe and welcoming space for you. We recently interviewed two of the Silver Circle support group facilitators, Ron Boggio and Victor Wexler, about their experiences leading the group sessions.
It's clear from their responses that they benefit from the experience just as much as the group members!
Q: Why did you decide to get trained to be a Silver Circles facilitator?
Victor Wexler (VW): Wonderful thing, I had to slow down and go to rehab for a month, which left a void in my day-to-day. My old friend Michael Mitchell [from Whitman-Walker] referred me to the opportunity. I accepted because I love being of service to others. It gave me a new home, and a group identity.
Ron Boggio (RB): I'm as psychologist and I was interested in mentoring.
Q: What have you personally gotten out of being a facilitator?
VW: It's a wonderful experience. There's something about the age group of people 60+ that creates strong bonds. They are very encouraging, more helpful to one another, and they don't compete.
RB: Although there are similarities between being a facilitator and therapist, I had to learn how to be a facilitator and not a therapist. I had to learn to become more of a peer, and be more transparent.
Q: What topics are discussed?
VW: Housing, eviction, medical issues, relocating, health, and traveling.
RB: Getting older, dating, housing and relocating, and aging solo.
Q: What have you observed your group members have gotten out of being in a group? What are the major take-a-ways that you've noticed?
VW: I've seen a lot of take-a-ways but mainly "friendship and social connection.
RB: A number of participants were socially isolated, and some widowed. Most have gotten someone to talk to and more social connection.
Q:What have you learned since becoming a facilitator for Silver Circles?
VW: That I am not alone. It's so relieving when you are going through things and you find out that someone else is going through or has gone through the same thing.", The sharing of experiences builds stronger connections and bonds.
RB: I was impressed by the support group overall because I have not noticed similar programs in Maryland or Virginia yet.
If you are interested in joining one of the groups, we'd love to have you. In addition to Ron and Victor's group at Whitman-Walker's 14th street location, we have other groups at Iona, Metropolitan Community Church of DC (MCC-DC), and the Max Robinson Center in Anacostia. We have two groups for men, one group for women, and two groups that are for both.
To join a group, you must have a short intake phone call with Whitman-Walker staffer Michael Mitchell at 202-939-7646 or mmitchell@whitman-walker.org.