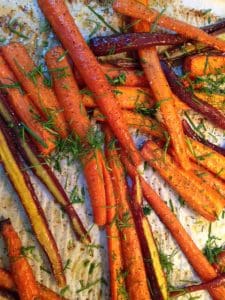 My Roasted Carrots with Orange, Honey, and Dill is a family favorite. It's easy to make, delicious, AND healthy. Plus, it adds some beautiful colors to your plate (and only requires a few ingredients). Enjoy it this holiday season!
Ingredients:
1 pound of carrots (try to find a bunch or bag of multi-colored carrots), washed, peeled, and cut in half lengthwise
1-2 tbsp extra virgin olive oil
1 tbsp honey
¼ tsp kosher salt
1/2 tsp black pepper
1 tsp fresh orange rind (optional)
1 tsp dried dill or 1 tbsp fresh dill, chopped
Squeeze of fresh lemon juice
Steps:
1. Heat oven to 400 degrees F.
2. Place prepared carrots in an even layer on a baking sheet.
3. Mix the honey with the olive oil and orange rind (if using) and drizzle over the carrots, tossing carrots to coat evenly. Sprinkle the carrots with salt and pepper.
4. Roast in the oven for about 15-20 minutes. Remove from the oven, toss, and continue cooking for about 5-10 minutes until the carrots are nicely browned. They should be soft on the outside but still a little crunchy inside.
5. Sprinkle with dried or fresh dill, and a squeeze of lemon juice. Taste for salt and pepper and adjust to your taste.
6. Enjoy!
By Rose Clifford, RDN, MBA
Rose Clifford, RDN, MBA has practiced as a registered dietitian nutritionist in the Washington, DC area for over 30 years. Her current primary work as the Nutrition Program Manager for Iona Senior Services focuses on helping older adults maximize their nutritional health so they can live active, full lives in their own homes. Rose is an active member of the DC Office on Aging Nutrition Task Force and is FY17 co-chair of the Food & Nutrition sub-committee of the DC Senior Advisory Coalition.