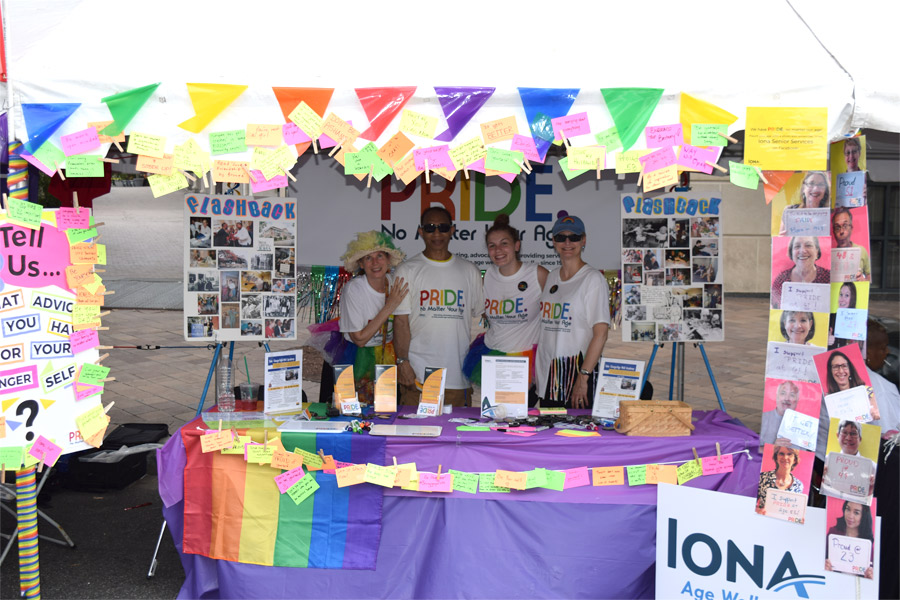 When it comes to aging or caregiving, it's common to feel anxious, confused, and overwhelmed. Now imagine those concerns heightened by the fear of discrimination, or a lack of traditional support networks or healthcare. Unfortunately, for many lesbian, gay, bisexual, transgender, and queer (LGBTQ) older adults, these challenges are a reality.
Here at Iona, we believe no one should have barriers to their positive aging. That's why we've made reaching out to LGBTQ older adults and advocacy experts a priority. This summer, we hosted our very first booth in the Capital Pride Festival, asking attendees to share advice to their younger selves, and in December Iona's Take Charge/Age Well Academy's℠ "LGBTQ Take Charge of Your Aging" series will launch.
We invite you to share your ideas for how we can continue to develop programs that meet the specific needs of LGBTQ clients by calling Susan Messina at (202) 895-9401.
What Advice Do You Have for Your Younger Self?
That was the question on our mind during this summer's Capital Pride Festival. Iona hosted our very first booth and asked attendees to share words of wisdom to their younger selves.
With more than 200 responses, here are our favorite replies:
Be a source of inspiration for those in need.
Stay physically active no matter your age.
Live with gusto!
Be nice to your folks.
Find and embrace what makes you happy!

Written by Rosie Aquila

Rosie Aquila is Iona's Communications and Marketing Manager. A graduate of Kenyon College (where she worked as editor for the college's newspaper), Rosie joined Iona's team in 2014.