Self-taught folk artist Paul Brown showcased his artworks in the Lois & Richard England Gallery at Iona in 2009. Learn about his exhibit below. 
This short video filmed in 2009 features artist Paul Brown. Starting at the 3:04 mark, see inside Paul's apartment-turned-studio, and learn what inspires his work.
Read Paul's artist statement below:
"Paul Brown was born right here in Washington, DC in 1924. When he was a kid, he spent hours drawing instead of doing his class work. "I drew everything, even the teacher," he says.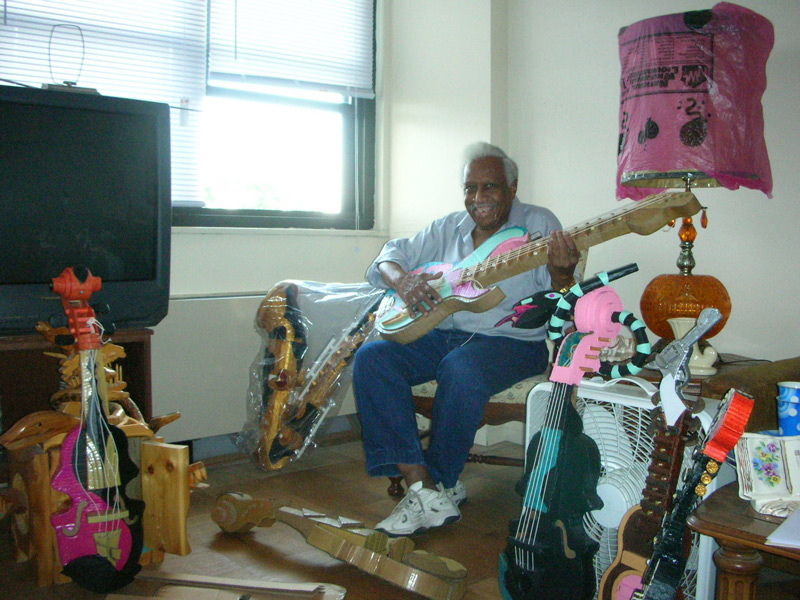 In 1951, Paul met his wife, Velma, and lived happily married for 50 years. He retired as Lieutenant for the Child's Protection Services at Children's Hospital in 1994. Soon after, Velma passed away and Paul began making art. He had to do something. "I get ideas from my head. I'm not an expert. I'm just using my gift from god."
Paul has lived at Regency House since Nixon was in office. He used his entire apartment as a studio. "I want to get in touch with other elderly folks to let them know just 'cause they're getting old, that they can still be useful. Making these pieces carries me away and does me good."
The manager of the building asked Paul to enliven the basement hallway. So, he installed several wall mural portraits of famous African Americans, as well as a mural depicting the September 11, 2001 attack.
Paul's artwork at Iona is mixed media. He recycles cardboard, coat hangers, nails, screws, buttons, and other found objects and puts them all together with wood glue. Then, he uses water based house paints to embellish the cardboard surface. "
Paul passed away in 2011. In his honor, Greg and Marisa Mize, who had a special relationship with Paul, decided to show their gratitude to Iona with a gift. You can read Greg's "Why I give" feature in Iona's Summer 2017 issue of The Voice.