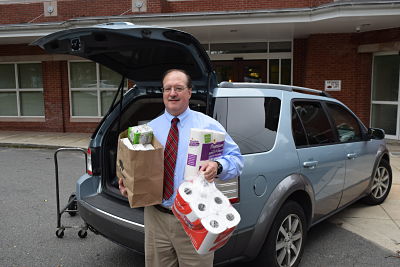 As you know, Washington, DC is an expensive city. For many of our neighbors with limited resources, that means cutting costs and making sacrifices on items they might need. When finances are tight, home items we take for granted are first to go.
Fortunately, your donations ensure that Iona's social workers can meet these basic needs. Thanks to your support, along with generous funding from the Jack R. Anderson Foundation, Iona keeps a special Emergency Fund for our social workers to tap into whenever needed.
Your generosity has helped to purchase clean clothing and toiletries. You've funded vital deep-cleaning home services. Your donations have even helped to provide emergency money for rent, medical co-payments, and other bills. Truly, your impact is immeasurable.
Just ask Iona social worker Randy Smith. Randy frequents the Emergency Fund often. He's purchased everything from paper towels to shaving cream for his clients, who otherwise can't afford these basic necessities.
In addition to home essentials, the Emergency Fund can also help cover bills. This summer, for example, Randy tapped into the Fund to cover the costs of a client's cable and phone bill. The $175 back payments the client owed was preventing him from getting services installed in a new apartment.
"He deserves to have a phone," says Randy. "It's his connection to the world. But, the cable company wouldn't install anything until he paid the $175. He just doesn't have that kind of money." Fortunately, because of your gift, Randy could step in.
Your support is more critical than ever as people live longer and face more complex challenges every day. Thankfully, because of you, when a client needs new sheets or cash to pay for a late utility bill, they know they can lean upon Iona. And, in turn, Iona knows we can lean upon you. Thank you for your caring.