In October 1994, John Glenn, the first American astronaut to orbit Earth, addressed his colleagues at the US Senate with the story of Mrs. Jones (told to him by then-Iona Executive Director Elizabeth Fox). At 87 years old, Mrs. Jones was a former government employee and a member of the naturally occurring retirement community (NORC) on Connecticut Avenue in Northwest DC. She lived alone, did not have any savings, and her osteoporosis made it difficult to prepare meals or do light cleaning. More than anything, Mrs. Jones was afraid that her situation would require her to move to a nursing home and leave her home of the past 40 years.
That's when her apartment manager put her in touch with Iona. Soon, Mrs. Jones began receiving home-delivered meals seven days a week. An Iona volunteer visited her weekly to check on her, and she received the care and support she needed to remain in her home. Most importantly, she found a new community in Iona.
During my first year as Iona's CEO, I had the honor of meeting many individuals similar to Mrs. Jones. And much like her, I too have found a new community in Iona. From cake recipes, poems, life stories, hugs, and even the occasional American Sign Language lesson, I have received so much more from the people we serve in a single year than I can ever return.
In Senator Glenn's message to the Senate, he shared: "Mrs. Jones' story has a lot to teach us about policies and programs which will help our country cope with its growing older population. The government alone cannot give Mrs. Jones the quality of life that we would want for ourselves and our loved ones. Rather, the government needs partners to mobilize volunteers… to be part of the solution… Iona Senior Services is an outstanding example of this partnership."
This past year has generated many successful partnerships that have allowed Iona to serve older adults and the people caring for them throughout the city in new ways. We worked with Iona's Citizens Advisory Group and partnered with DC Villages to host a Ward 3 DC City Council forum to hear candidates speak about older adult-specific issues. To bridge the digital divide faced by our older adults in Southeast DC, we partnered with Comcast to provide free high-speed Internet access and digital skills training by becoming a community Lift Zone. Through a partnership with the DC Department of Aging and Community Living, we launched a citywide In-Home Peer Support program to provide supplemental income for older adults trained as Peer Support Workers to help reach isolated older adults in need of socialization and light assistance at home, making it a true "for older adults, by older adults" program.
I begin my second year as CEO of Iona this week with a deep sense of gratitude for every person we have the privilege of serving because of the trust given to us. Our listening sessions will continue throughout the year for us to hear and learn from you. Thank you for partnering with us to ensure that all people have the opportunity to age and live well.
With deep gratitude,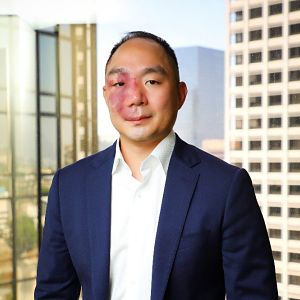 Joon Bang
Chief Executive Officer