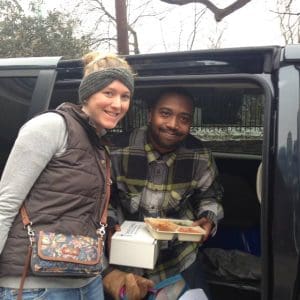 Our van driver, Reggie Hutchinson, spends two hours every day driving participants to our Center. Meet the man behind the van in this Q&A!
How long have you been working in the Wellness & Arts Center?
Almost two years.
What is your job?
Program Assistant, Van Driver, and Kitchen Assistant.
What is your favorite part of your work?
Interacting with our participants – they are too funny!
Do you have any favorite memories to share? 
I remember once, I walked in and a participant said, 'Oh, he is so handsome – that's my boyfriend!' And she gave me a kiss on both cheeks. I couldn't do anything but smile and just thank her. In the van, sometimes we'll have sing-a-longs. I'll sing my interpretation of opera to them and everybody in the car will start laughing. They'll say to me, 'Oh, Reggie, you have such a beautiful voice!' And, I'll say, 'Are you sure?' I love my job. You get a good feeling, working here.
Do you have a favorite song to sing in the car?
"Sunshine," by The Temptations
How long does transportation to our Center typically take?
About an hour, but it depends on where I'm going, and how many participants we're picking up that day.
Why does your work matter to you?
For me, it's important to give back because without [older adults] we wouldn't be where we are. They went through hardships and adversity, and now we can take care of them. There are Veterans in our program that fought in WWII. There are nurses. There are all of these people under one roof, and all you can do is take care of them and thank them. It's our God-given duty to give back to the elderly.
And some families might be struggling. They might need that time away from their family member so they can unwind and have a little time for themselves. That's why we're here.
You get a good feeling when you can bring a smile to someone's face. It might not seem like much, but the little things we do actually make a big difference for families. So, transportation is a big part.
Tomorrow is #GivingTuesday, a global day to celebrate generosity and to give back. This year, we're raising money to provide special transportation scholarships to our Wellness & Arts Center. These scholarships are a lifesaver for families who would otherwise be drowning in the oftentimes complex daily logistics of bringing their loved one, who might have Alzheimer's, dementia, or a physical disability, to our enriching adult day program. Honor caregivers this holiday season by making a gift to Iona.