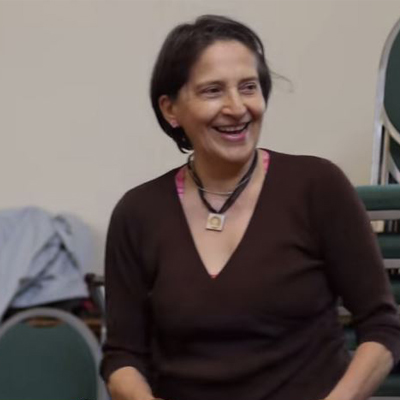 There are no accidents. I am 66 years old and this fall I relocated to DC from Denver, under difficult personal and familial circumstances. On my third day after my arrival, still in grief and sorrow, I went to the National Cathedral to find out about volunteering. I was searching. And God provided.
After visiting the Cathedral, I stopped at the Opportunity Shop at St. Alban's. I entered that store without any idea about what was about to happen. I heard women's voices and went exploring.
I found women exercising—and a table of information explaining the Iona's Active Wellness Program at St. Alban's. Ever since that day, I have not failed to attend the program. I am so blessed. I have found shelter. I have found refuge. I have found exercise. I have found good food and beautiful women—and good teachings I can apply to my life. We had a seminar on aging well and how to cope. I am so grateful to have found Iona's programs at St. Alban's. I am not alone.
Thelma Hines, who runs the program, is extraordinary, a real treasure. She cares so deeply about us, as if we were relatives— or maybe even more so. A few days ago she was helping hand out a simple gift made by volunteers, beautiful placemats. The way she did it, it was like she was giving out a million dollar bundle. I am so very grateful I found you. I am not alone. There are women. There is spirit. There are exercise classes and all of them are "plus, plus, plus!" I am so blessed. I don't take anything for granted. Thank you!