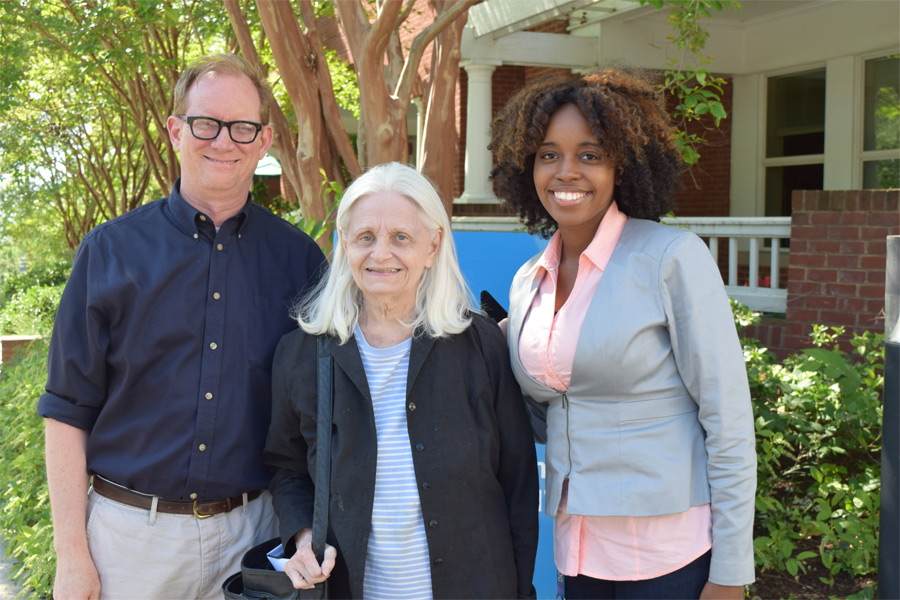 Louise's story is one many older adults can relate to. Loneliness. Financial concerns. Anxieties about aging. Now living in Friendship Terrace, a senior living community in Tenleytown, she's finally thriving — thanks to Iona.
After attending with a friend back in 2012, Louise Pearson, 79, began regularly participating in Iona's Active Wellness Program at St. Alban's, enjoying the many educational lectures, food presentations, and exercise classes.
But, behind-the-scenes, Louise was facing challenges at home. "My life looked very passive," Louise says. "I didn't have a lot of people around me. I was in my own apartment. I just watched television and read and went out for walks. That's about it. It was lonely."
In addition, Louise was having problems with her finances. A conversation at St. Alban's with Malika Moore, one of Iona's social workers, got the ball rolling. Malika was able to coordinate case management services and connect her to a trusted partner to organize her financial needs. She also introduced Louise to Bill Amt, one of Iona's compassionate psychotherapists.
The last piece of the puzzle came together this past April, when Louise moved to Friendship Terrace. Though she was anxious about leaving her former apartment, where she had lived for 30 years, the move went without a glitch.
Today, Louise has someone to support her in managing her finances and medical arrangements. She receives home delivered meals. She meets with Bill every week to share what's happening in her life and to learn new coping strategies. And when she's lonely, she always has a friend nearby.
"My next door neighbor comes over every night, knocks on my door, and we go down together for dinner! I really have everybody working for me," Louise says with a smile. "I'm spoiled rotten!"
Written by Rosie Aquila
Rosie Aquila is Iona's Communications and Marketing Manager. A graduate of Kenyon College (where she worked as editor for the college's newspaper), Rosie joined Iona's team in 2014.