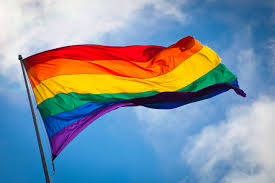 With the launch of several new programs in 2018, Iona continued to expand our programming and outreach to older adults who identify as Lesbian, Gay, Bisexual, Transgender, or Queer (LGBTQ).
After two focus groups and two workshop pilots, we launched "A Roadmap to Aging Well for LGBTQ People over 60." This full-day workshop brought together LGBTQ older adults to both learn and connect. This workshop was presented with funding from the DC Department of Aging and Community Living and in collaboration with seven local Villages.
In recognition of this work, we're thrilled to share that Iona received a Mather Lifeways Promising Practices Award.
Mather LifeWays Institute on Aging honors organizations that serve older adults in original and exciting ways. Additionally, in partnership with Whitman-Walker Health, Iona also launched three new peer-led support groups for LGBTQ older adults. "Knowing that LGBTQ older adults face unique challenges, we wanted to create educational programming to specifically address their needs," says Susan Messina, Iona's Deputy Director.
Together, these programs have offered a safe space for discussion, resource-sharing, and friendship.
One participant who's benefited from Iona's LGBTQ programming is Cedric Burgess. He was among the first participants in our Take Charge/Age Well Academy series for LGBTQ older adults a few years ago.
On the first day, he noticed there were more people than chairs, which, he says "spoke to the growing interest—and need—in the community." Cedric valued hearing from Iona's staff and other experts about health care decision-making, living wills, housing options, and ways to remain connected to others. Today, he continues to participate in our LGBTQ programs, and he leads the way as an advocate for others.
Whether he's volunteering at Iona's Capital Pride Festival booth, speaking at senior centers as a DC Office on Aging ambassador, participating in a new Silver Circle peer-led  support group, or checking on his Ward 5 neighbors. "I tell it straight," he says, quoting his favorite Iona button: "Pride No Matter Your Age."
You can access Mather LifeWays full report here: Revealing Research: 2018 Innovative Research on Aging Award Recipients.
Want to stay connected to our LGBTQ work? Click on the button below for more information about our services.