What does HOPE look like to you? That's the title of a poem written by our adult day health program participants at our Washington Home Center in Congress Heights, and a question that we at Iona strive to answer in the year ahead.
In 2022, our center, which supports the needs of older adults with memory and physical impairments, saw a 100% increase in enrollments. Today, an estimated 14,000 individuals are living with Alzheimer's Disease and Related Dementias (ADRD) in Washington, DC. ADRD consists of debilitating conditions that progressively impair memory and cognitive functions and leads to the decline in a person's ability to independently conduct everyday activities. Currently, there is no cure for ADRD and according to the CDC the number of older adults with ADRD is expected to triple over the next 30 years. The Economist describes the rising prevalence of dementia as a "global emergency" and the Alzheimer's Association has identified ADRD as an emerging public health crisis, calling it "the silent epidemic."
The reality is that the infrastructure to support older individuals and the families impacted by ADRD in the US is not being developed at the pace of the increasing and complex needs of our aging population, particularly in communities of color and those who lack resources.
Despite all this, I have not lost hope. Far from it. Along with a global effort to address these issues, Iona Senior Services is developing an ecosystem of support through our Dementia Navigator, Money Management, and Adult Day Health programs, that help meet the local needs of those impacted by ADRD. Our teams are in communities across the city bridging the gap in education and equipping individuals and family caregivers with access to important resources. Often, the first signs of cognitive decline show up when an older adult has difficulty managing their finances. Iona's Money Management Program (perhaps the only intervention of its kind in DC) provides our first safety net to help people navigate financial responsibilities and protect older adults from falling prey to exploitation and homelessness.
Over the next seven years, 10,000 Baby Boomers will turn 65 every day. Seven out of ten will eventually require long term care. Research suggests that the Adult Day Health program, particularly the social/medical model used by Iona is the most cost-effective long-term care option. Our two sites across the city (Ward 3 & Ward 8) ensures equity in access to enriching social activities that have shown the potential to slow the effects of dementia while also providing healthcare, tailored nutrition, and access to support groups and respite programs for family caregivers.
2023 represents a year of renewed hope as we build on our continued efforts to serve diverse communities. We've published our newest edition of the Resource Guide, translated it into Spanish, and we will continue to develop resources to address language barriers for limited English-proficient older adults and families in the region. Our In-Home Peer Support program now provides outreach to isolated older adults while offering income support for our older peer support workers. In the months ahead, we'll be expanding our Food Pantry Plus program to Iona's Washington Home Center and launching a new program in partnership with DC Housing and the DC Department of Aging and Community Living to provide direct programming for older adults living in Senior Public Housing (with access to healthy meals) in Ward 3.
What does HOPE look like to you? Our participants at Iona's Washington Home Center reminds us that:
There's always a chance for hope.
It looks like togetherness.  
That's what it takes.  
The dawn of a new day… It's time for hope you all!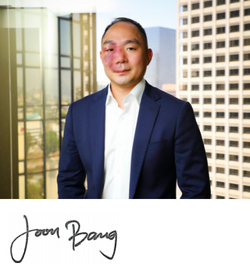 Joon Bang,
Chief Executive Officer