In her popular training, "Filling the Day with Meaning," Teepa Snow, a leading educator on dementia, says, "Meaningful days matter to all people. This need does not change for someone who is living with dementia."
That's a philosophy we all believe here at Iona. Our Wellness & Arts Center, an adult day health program, uses a person-centered model that focuses on individual strengths, preferences, and successes.
Because we serve individuals with a wide range of strengths and challenges, including folks with early memory loss and those in the later stages, identifying each person's abilities and likes is key to our program. It helps us plan activities that give participants choices throughout the day, and focuses on what they can do, not what they cannot do. In doing so, everyone can have positive new experiences.
As a family caregiver, this philosophy is something that you can do at home too.
No matter the activity you do with your loved one, giving your person a sense of purpose can make a big difference in the success of the activity. This can be as simple as stating, "I've made a little mistake and need some help. Will you help me?"
Four activities that can help your family member feel valued, productive, and purposeful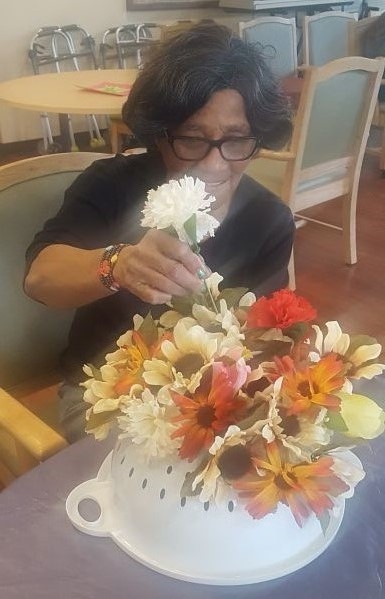 1. A new program we incorporated at Iona that you can recreate at home is foolproof flower arranging. Together or independently, ask your loved one to help create beautiful centerpieces. All you need is an assortment of artificial flowers and a colander with large enough holes that the stems will fit inside. There is a sense of immediate gratification. As you add the flowers, the plain colander transforms into a work of art!
2. Due to the positive response of the "See Me at the National Portrait Gallery" there are now four museums hosting this program. They are: Freer/Sackler, Smithsonian American Art Museum, National Portrait Gallery, and National Museum of African Art. The programs take place during the week (Tuesdays and Wednesdays).
3. Spa Treatment at home. This program is so versatile. It can be done inside or outside, paired with lemonade, tea, coffee, or hot chocolate, depending on the season. And don't stereotype– men can enjoy and benefit too! All you need is an emery board, polish (can be clear or colored), and some lotion. Provide your loved one with a gentle hand massage using some lotion and file. If desired, you might paint their nails. Here at Iona, we set the stage for a relaxing afternoon of spa treatment by turning on music and using flameless candles.
4. Spiritual renewal doesn't necessarily mean religious renewal. For some, renewing your spirit can happen by spending time in nature. Finding a local park and sitting in the shade watching children play can be a wonderful way to recharge. Just remember to stay hydrated.
Have ideas for other successful activities to do at home? Let us know in the comments!