While we're all being advised to practice safe social distancing, we know that this could be an unrealistic task for older caregivers and those who are part of a "grandfamily." In fact, in the DC area, there are over 4,200 grandparents who are the sole caregiver or guardian of children in their homes, and over 12, 000 children who live with a grandparent. Isolating yourself from your grandchildren would be impossible! To help ensure that your family, and families alike, stay safe, active, and equipped with accurate tools and information, we're sharing best practices and local resources.
First things first, it is best that everyone in your household maintain good hygiene and safe distancing. Here are the most common guidelines for staying safe during this crisis:
Health & Safety
Wash hands regularly and thoroughly.
Avoid touching face.
Clean and disinfect high-touch surfaces daily.
Practice "social distancing" from those you don't live with. Stay home as much as possible. If you have to meet someone, consider a virtual meeting via phone, tablet, or computer.
Visit the Centers for Disease Control and Prevention (CDC) website.
Secondly, you want to stay updated with accurate information from valid sources. Here are some local sources:
Mental Health
During this time of uncertainty, you may find yourself feeling antsy, overwhelmed, overly emotional, or filled with worry. And, of course, children may be experiencing the same feelings. Here are some great sources for managing stress or anxiety in your household:
Learning Resources & Activities for Your Children
In addition to you having access to valid information about the virus, children under your care should also receive factual (yet age-appropriate information) and reassurance. Here are excellent resources for communicating information to them about the coronavirus:
With school closures, you may also be juggling a number of responsibilities: household errands, work assignments, helping with school, etc. These resources and activities for children at home might help:
Food Access
Although schools are closed during this quarantine, schools and childcare centers are still providing meals and other solutions for your family to access food.
DC schools will say with virtual learning through the rest of the school year. DC Public Schools and DC Public Charter Schools are providing meals for any children under 18. Both the DCPS and the DCPCS sites and their hours can be viewed here.

The city is now also partnering with Martha's Table and DC Central Kitchen to provide pre-packed grocery bags at 10 DCPS sites for students and their families. Grocery bags will be distributed Monday-Friday, from 12:30 PM- 2:00 PM.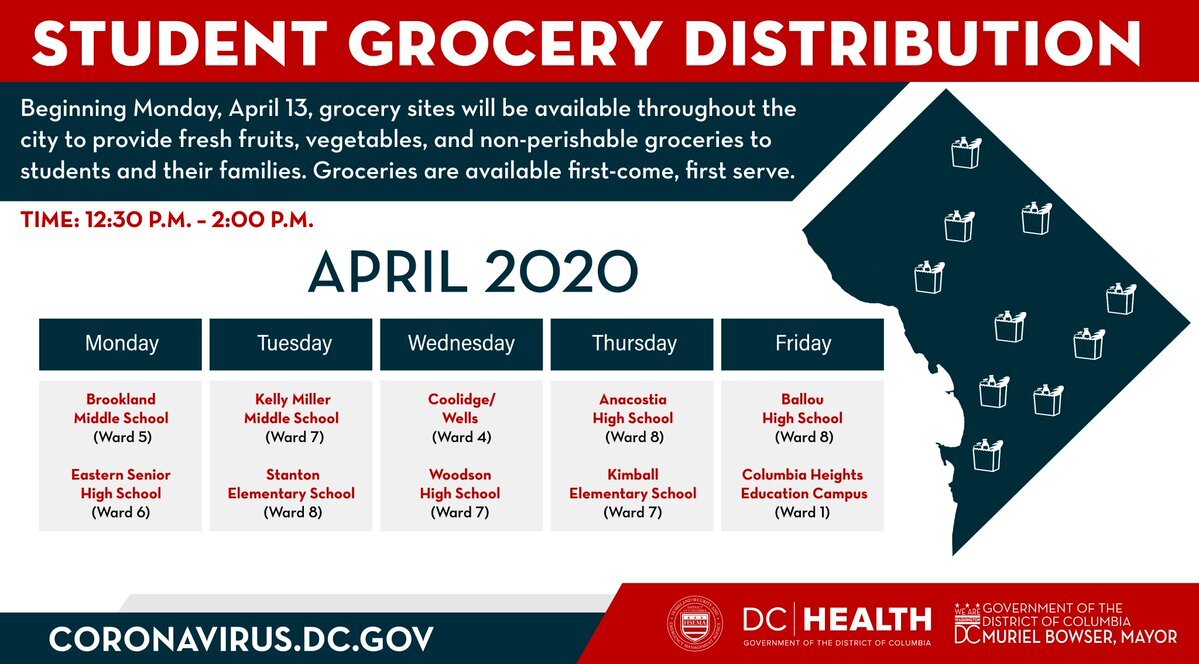 DC Greens has an excellent round-up of meal sites throughout the District. Read it here. You can also visit DC Government's website for more information.
Additionally, the Department of Aging and Community Living (DACL) is offering frozen meal delivery for older adults. Individuals under age 60

may

be eligible if they are the spouse of a homebound older adult or an individual with disabilities that resides with a homebound older adult. Contact (202) 895-9448, and press 1 to reach the Helpline, or email info@iona.org for more information about DACL's meals.
Family caregivers may also qualify for assistance with groceries, meals, infant formula, and nutrition education. Here are local programs where your family can find support:
To round off advice for managing your household during this pandemic, here are a few other tips to help: