The three exceptional artists in this exhibition explore emotionality and movement through dramatic color. The intense and energetic acrylic paints of Aziza Gibson-Hunter's paper cutouts jump from the walls and invite us to break into a dance, in step with their rhythmic jazz-inspired patterns. Alec Simpson's intimate abstract prints are sublime and lead us into thoughtful paths. The intricate fabric wall sculptures of Eileen Williams are playful and tease and tickle our senses.
Collectively, they inspire. They exalt. They make us think. They cause us to smile and dance. They allow us to feel. They teach us how to live.
Joey Mánlapaz, MFA, Curator
You can view my portfolio at joeymanlapaz.com.
---
Eileen Williams, artist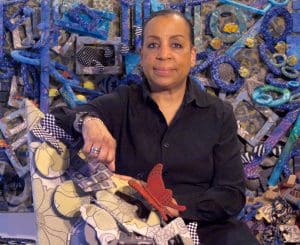 Sometimes the simplest things in life, gives us the most pleasure. For me, it's creating art with fabric. From yards of contemporary fibers, to whimsical textiles, fabric is stretched canvas style over triangle, rectangle or square wooden frames. Intrigued by the geometry and asymmetry of the triangle form and the whimsy of embedded fabric covered faces, they appear often in my work.
Layering intricate, geometric, fabric covered shapes, produces movement and a three-dimensional effect. In the 1980s I worked for a company where I learned the technique of covering commercial life-sized fiberglass animals with upholstery fabric to emulate animal skins. Not knowing then, this meticulous technique of covering objects with fabric, along with my background in painting and sculpturing would be combined in my artwork today.
I believe that art gives us the opportunity to explore the minds of others, and at its best, it awakens our senses at different levels. As an artist creating art that promotes a sense of energy and enthusiasm, evokes conversation, stimulates the imagination and engages one to feel something, is my goal.
Maryland artist Eileen Williams has widened the conventional boundaries of fabric as a medium, by using fabric as her paint palette to create one of a kind three-dimensional mixed media and fabric art. After working 18 years in the medical field, Eileen works now as a full-time artist. Eileen has exhibited her work in galleries, public spaces and art venues located in Virginia, Washington DC, Maryland, New York and Connecticut. As a cancer survivor since 2009 Eileen states, "having gone through chemotherapy and radiation, every opportunity that I can exhibit my work and encourage others, is truly a blessing."
You can view my portfolio at elwilliamsart.com.
---
Aziza Gibson-Hunter, artist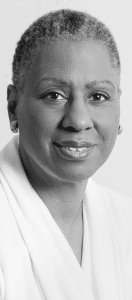 As a child, I remember elderly Black women saying," That girl/boy got potencha…(potential)". Their heads would nod between a knowing smile. They could look at young people and see that there was a spectacular energy inside of that person, which would surely reveal itself in time, and on occasion. In physics, potential energy is stored energy. It is a force that can be tapped, and shared. Perhaps the attack on people of color is a manifestation of the fear of that potential. It is a fear that is as old as America itself.
In the light of the current political realities, we who believe in freedom can access our "potencha": our talents, gifts, knowledge, skills, know-how, discipline, tenacity, and will…POTENCHA"! We can pull from this vital, using it for energy unifying, healing, giving, sharing our very best to guide and protect ourselves/each other through these most challenging times. We can organize ourselves with the discipline of Harriet Tubman and all those working the underground rail road, as clandestine as the thousands of ancestors, who lived in the Great Dismal Swamps of Virginia/Carolina, with the strategic intelligence of those many lawyers who worked on the Brown vs. the Board of Education case, and with the precision of the Deacons of Defense.
"Aziza" Claudia Gibson-Hunter was born in Philadelphia, Pennsylvania. She graduated from Temple University, (BS), and received her MFA from Howard University. After relocating to New York, she attended Bob Blackburn's Printmaking Studio, the Arts Students League, and later received a fellowship from the Bronx Museum of Art. She joined "Where We At ", a group of Black women artists in the early 1980's. In 1987, she returned to Washington DC and in 1999, joined the Howard University Department of Fine Arts faculty. She continued her studies at the Canadian School for Non Toxic Printmaking.
Her emphasis has been mixed media works since 2005. Ms. Gibson-Hunter has exhibited nationally, and internationally. Aziza is a cofounding member of Black Artists of DC, and continues to advocate for artists through
this organization. In 2014, 2016, 2018, and 2020, Ms. Gibson-Hunter was awarded the prestigious Individual Artist Fellowship Program Grant, from the DC Commission of the Arts and Humanities. Her work is included in the Washington DC Art Bank, the John A. Wilson Building Permanent Art collection, the Washintonian collection, the Liberian Embassy art collection, the Montgomery county Works on Paper collection, and other notable collections. She completed two major public art commissions for the Washington DC Department of General Services. The "Wall of Unity", (2017) and "ANCESTOR"S (2019) are both located in Washington, DC public schools. In 2019, Aziza was a Pyramid Atlantic Denbo Fellow. She is a member of STABLE, a Washington DC artist community. Ms. Gibson-Hunter has a studio in Washington DC.
You can view my portfolio at gibsonhunterstudio.com.
---
Alec Simpson, artist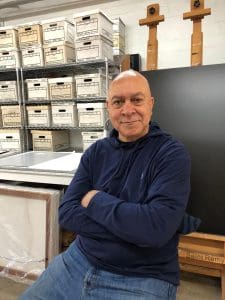 Prints from my recent series Explorations are all unique, one of a kind monotypes. I created them with the master printer Brandon Graving at the Gravity Press Experimental Print Shop in North Adams, Massachusetts.
Computer generated pigment prints from my Twenty Third Psalm series were created with the late master print maker Michael Platt in his workshop in Washington, DC. The original monotypes (not exhibited) were created at the Pyramid Atlantic Art Center in Maryland. The Twenty-third Psalm has been a source of comfort to countless people, including myself. We all have moments when issues seem to weigh heavily upon us. The words of the Twenty-third Psalm act as a reminder, a kind of balm, bringing solace and promise that somehow this too shall pass.
All works were created with the intent to bring joy and uplift to all those who view them.
I hold a Master of Fine Arts degree from Southern Methodist University in the Comparative Arts (focused on art history and aesthetics). Along the way, I have had the great good fortune to work with a number of fine artists. I took a painting course at the Corcoran School of Art with Mindy Weisel. Later, I began to produce monotypes and mixed media works at Pyramid Atlantic Art Center with Helen Frederick and with Susan Goldman in her workshop. I created large-scale monotypes and monoprints at Gravity Press Experimental Print Shop in the Berkshires and New Orleans with Brandon Graving. Here in Washington, DC, I have produced mixed media works with noted printmaker Lou Stovall and computer-generated pigment prints with Michael Platt and Bridgett Lambert. In spite of learning from these notable artists, I pretty much think of myself more as a non-academic, self-taught artist.
I can be contacted at alecsimpson1@gmail.com.
---
From February 21-May 21, 2020, the Lois & Richard England Gallery at Iona Senior Services is proud to exhibit local artists in the exhibition, "Celebrating Color!"
You're invited to come help us celebrate these artists on Friday, February 21, from 5 to 7 PM for an energetic reception, with conversation and refreshments.