Love Story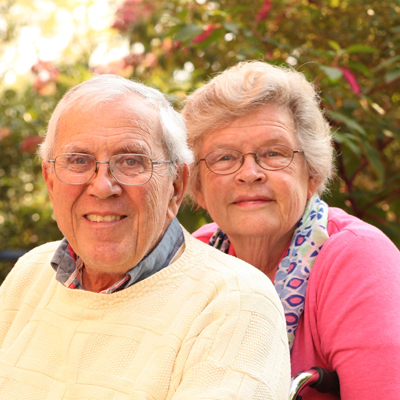 Theirs is a love story that began on Christmas Eve, 1989. Linda Heaney and Bob Blinn were married 21/2 years later — the second marriage for both. The years since have been filled with a love of entertaining and dinner parties in their home, children and grandchildren, fulfilling careers, travel, and good health. Until the Parkinson's diagnosis, that is.
The first indication of trouble was during a trip to South America. In Argentina Bob lost his balance for no apparent reason. In Chile, they were walking down a hill, when he started tilting slightly to one side. Linda, whose mother had Parkinson's, quietly suspected what it was.
After a 2010 diagnosis, Bob refused to let the disease define him. As recently as a year ago, he was mowing his lawn. "I know everyone's Parkinson's journey is different," says Linda. "What is identical is it's a progressive degenerative disease. Intellectually you think you are prepared for it. But it's like when you have kids and you say you are going to do things a certain way. Then the kids arrive and it's not what you thought."
This past spring, Bob's health declined — quickly. He fell and fractured his ribs. The couple held out hope that surgery to address fluid in his brain would help. It did not. "That's why we're here," says Linda, her voice choked with emotion.
She met with the staff of Iona's Wellness & Arts Center in June. Bob's world was shrinking. He was experiencing memory loss, was withdrawn, and his thinking processes were dulled — common symptoms of Parkinson's. He needed to be in a safe environment. At first, Bob resisted the idea of visiting Iona, even though Linda assured him it would improve the quality of his life. (And, it turns out, hers — but she wasn't thinking of herself or her need for respite at the time). After the first day at the Wellness & Arts Center, he asked to go back.
Prior to Iona, Bob felt marginalized. "When you have Parkinson's," Linda says, "people write you off. At the Wellness & Arts Center, people are nice to him. The staff monitors his health. And he's making new friends. We have much more to talk about at the dinner table now."
As for Linda, who is 10 years younger than Bob, she thought she'd use the two days a week when he is at Iona to run errands, go to museums, have lunch with friends, and exercise. But, she says, "The first few times, I just came home and read. The grieving process has been long and slow. It's very emotional to watch his decline. What I do is not impossible. But it's hard and it's constant. But thanks to Iona, I don't have to worry about Bob so much anymore."
Written by Janice Kaplan