Farm to Table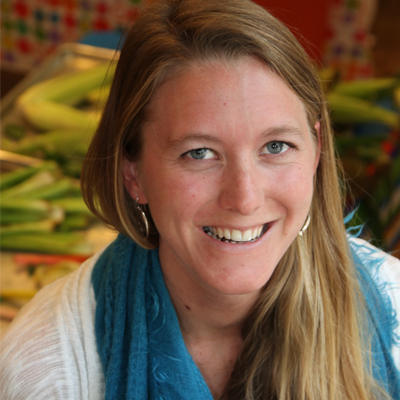 Twenty women and men are lined up with reusable bags waiting for the free Fresh Market to open at Iona's Active Wellness Program at St. Alban's. Today's produce includes corn, snap peas, Swiss chard, and tomatoes.
Next to children, older adults are most vulnerable to hunger. Immobility makes certain life tasks — such as shopping for groceries — more difficult. Malnourished older adults suffer from a variety of physical and mental health issues.
Iona's nutrition program manager, Rose Clifford, understands this well. So does Ashlea Steiner, who joined Iona's staff earlier this year as coordinator of the new Farm to Table Program, which provides produce from local markets to older adults who participate in the Active Wellness Program at St. Alban's. (This program provides opportunities for socializing, life-long learning, and fitness, as well as a nutritious lunch.)
Ashlea says Iona's new program developed out of a need to provide older adults with better access to nutritious fresh food. The DC area is home to a growing number of farmers' markets — but for older adults, outdoor markets can be hard to reach and difficult to navigate because of the crowds and the summer heat. A grant from the Aetna Foundation allowed Iona to develop the Fresh Market, which takes place every Monday. Produce is collected by Ashlea and a team of helpers on Sundays from the Dupont Circle FRESHFARM Market, where they glean up to 400 pounds of vegetables and fruit donated by the growers. Iona has partnerships with other markets as well and with the K Street Farm at Walker Jones, which is managed by DC Greens, a DC nonprofit connecting communities to healthy food. (In partnership with DC Greens, Iona recently brought its expertise — and produce — to low-income residents in Ward 1). The Iona market would not be possible without the help of volunteers and others who not only glean but weigh, count, wash, sort, and bag produce. Thanks to donors, Iona has two refrigerators large enough to store the perishable food.
"I encourage the St. Alban's participants to clear me out," says Ashlea. Any produce that remains is delivered to the nonprofit Friendship Place and to the residents of Friendship Terrace. Since opening the market, "our participants' perspective on how to incorporate fresh produce into their diet has shifted," says Ashlea, who also organizes cooking demonstrations. Because St. Alban's is located in one of the DC's higher-income neighborhoods, some may not recognize how great the need is. But for older adults on a fixed income — no matter where they live — fresh produce may be a true luxury.
"One woman always has the same story," Ashlea says. "She tells us: 'We worked hard our whole lives and now we don't have the means to get around to these markets or afford vegetables at the store. We are glad this is here for us in our time of need.' She gets teary every time."
Written by Janice Kaplan