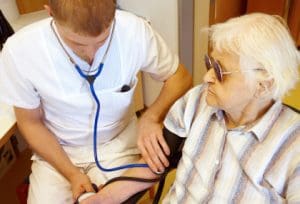 Put into place in 2010 by former President Barack Obama, the Affordable Care Act (ACA) has expanded healthcare access for millions of older adults across the country. Among its many benefits, the ACA has lowered prices on prescription drugs, increased health insurance access and coverage, and helped many older adults continue to live in their homes.
Millions depend on the ACA for vital health care coverage, and if Congress repeals it, older adults across the country will face serious negative implications.
What You Need to Know about the Proposed Repeal:
1. Over 4.5 million adults age 55-64 would lose health care coverage
Through Marketplaces and Medicaid expansion, the ACA expanded healthcare coverage for adults age 55-64. Repealing the ACA would leave millions of older adults uninsured; those who lack employer coverage and cannot afford private coverage would likely enter Medicare at age 65 in worse health.
Additionally, eight out of ten people age 55-64 live with preexisting health conditions, and they would either face increased costs or be excluded from Medicare coverage altogether.
19% of adults age 55-64 would not have enough insurance to cover their health needs. This is almost double the current rate, which is 8%. Read more about these findings here.
2. Funding would decrease for programs to help older adults and people with disabilities who want to remain in their homes
Access to Medicaid at-home services has been greatly improved by the ACA's Community First Choice option program. The program has played a major part in allowing older adults to age within their communities and out of institutions.
The Community First Choice option allows states who choose to participate to provide a range of personal attendant services and in-home support to eligible older adults, based on their functional capabilities and needs. As a state plan option, participating states must provide these services to all eligible individuals, giving priority to those currently in institutions or on waiting lists for in-home services.
3. Medicare costs would increase for older adults and people with disabilities
One in four Medicare Part D enrollees spends enough on prescription drugs to fall into the Medicare "donut hole," or a coverage gap. The ACA has helped close this hole by providing free preventative health services, which benefited more than 39 million Medicare enrollees in 2015 alone.
Medicare enrollees have saved $2,272 per person on prescription drugs since 2010. If the ACA were repealed, 9 million older adults and people with disabilities would face increased prescription costs. Medicare preventive services would also increase for older adults and beneficiaries under the repeal.
4. Those dually eligible for both Medicare and Medicaid would face increased risk
The ACA specifically helps dual eligibles. Currently, demonstration programs in 12 states coordinate both Medicare and Medicaid benefits for almost half a million dual eligible individuals.
The Center for Medicare and Medicaid Innovation's delivery system reforms also benefit dual eligibles, thus coordinated care would be halted by a full repeal of the ACA.
5. All health care programs would face destabilization
Millions of older adults rely on vital Medicare and Medicaid programs for their health care needs. A full repeal of the ACA would place both programs in significant financial danger through budget cuts, per capita caps, privatization, vouchers, and block grants.
Considering the vast benefits that the ACA has provided to older adults and people with disabilities since its installment seven years ago, the impact that a repeal would have on these populations would be detrimental.
While the new administration has projected that no changes will be made for at least the next year, it is still imperative to consider how the ACA repeal affects our older community, as well as to stay informed about the consequences if you may be an individual affected by proposed changes.
By Ali Perry
Ali Perry is a Communications and Marketing Intern at Iona, and a former volunteer at our Active Wellness Program at St. Alban's. She is a senior at The George Washington University studying Human Services and Social Justice, and intends to pursue a career in Nonprofit Management.