Dear Friends and Partners,
Care is at the heart of everything we do at Iona. It calls us to listen to the people we serve, moves us to respond to their needs in times of uncertainty, and brings out our shared humanity, reminding us that we are on this lifelong journey together, no matter the obstacles.
As Iona's new CEO, it's a privilege for me to steward the mission of serving our community of older adults and the people caring for them, and to continue the important path forged by former leaders: Pearlbea LaBier, Sally McCarthy, Mary Callahan, Elizabeth Fox, Louise Myers, Joan Lewis, Deborah Peeples, and Sally White. Iona was born 47 years ago to answer an expressed need, and, since then, has pioneered innovative and comprehensive solutions to serve the burgeoning older adult community in our nation's capital.
We invite you to welcome this new year with us at Iona—one in which we seek to celebrate our diverse communities and come together to serve our elders and caregivers of different races, ethnicities, cultures, incomes, abilities, identities, and orientations. As part of these efforts, we will be hosting listening sessions throughout the year to learn more about your needs and hopes around growing older. Please write me at joonbang@iona.org if you'd like to be involved in our listening sessions and the changes we seek to make. Our ultimate goal is to ensure that Iona is a platform where the voiceless have a voice and the isolated have a community. Iona's commitment to breaking down the barriers that create inequities in society—particularly those impacting our aging community—is our priority in 2022.
Protecting the dignity of our older adult population is not just a mandate upon Iona—it is our shared responsibility as a society. We invite you to join us in this important work of caring for all our older neighbors and those who care for them.
Yours sincerely,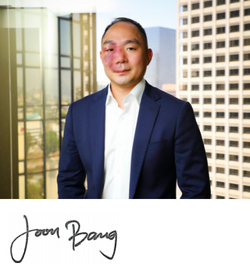 Joon Bang
Chief Executive Officer
Iona Senior Services