Recession leads to perfect storm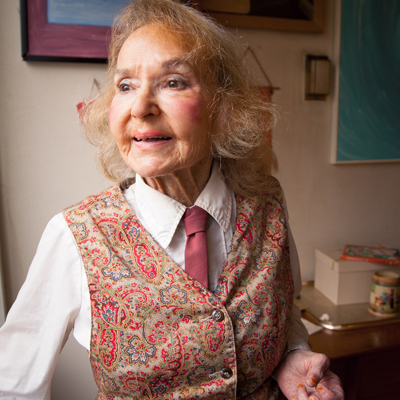 It was "a perfect storm," says Dr. Lorna Hahn. She is referring to three events that conspired to turn her life upside down between 2008 and 2011. A political scientist who taught international relations at American, Catholic, Georgetown, and Howard Universities, Dr. Hahn is known for her research and books relating to Africa. John F. Kennedy, who was a U.S. senator at the time, wrote the forward to her first book, North Africa: Nationalism to Nationhood. More recently, her research has focused on the Arab Spring.
But in 2008 her attention was elsewhere. That is when the Great Recession hit. "The stock market crashed and took my savings with it," she says. Like many others in our region and around the country, Dr. Hahn suffered a major financial setback. As if the recession weren't enough, she came to the end of a research contract, which was not renewed. Then, in January of 2011, she was rushed to the hospital with bleeding ulcers. Several blood transfusions later, she found herself back home — behind in her bills and at risk of eviction.
A friend suggested she contact Iona. That's when the petite Dr. Hahn met Iona's nurse care manager, Fiona Druy. Fiona jumped into action — addressing Dr. Hahn's health challenges by arranging for healthy home-delivered meals and a nutritional supplement.
To deal with her financial issues, Fiona connected Dr. Hahn with the nonprofit Legal Counsel for the Elderly and coordinated the services of three lawyers with expertise in different areas. The attorneys addressed issues with her landlord, including overdue repairs to her apartment and late rent payments. They discovered she was eligible to file for her Schedule H rent rebate for the previous three years and that she qualified for an increase in monthly Social Security payments.
"At my low point," she says, "I told Fiona, 'I shouldn't have gotten into this mess.' Her response made me feel better. She said: 'This could have happened to my own mother.' In fact, during stock market crashes, grown men have thrown themselves out of windows because they couldn't cope with their circumstances." Iona's staff "knows what they are doing," said Dr. Hahn.
"They have access to competent people in many areas, such as the law. Because of my circumstances, I got thousands of dollars of free legal advice." Dr. Hahn still receives nutritious food through Iona and support from the Legal Counsel for the Elderly. Grateful that her health and finances are at a better place, she remains active with her research and writing.
Thinking back on the past few years, Dr. Hahn says, "I never thought I'd have to tap into the services of a local social services organization. But I did. I appreciate Iona more than I can say. By sharing my story I hope to help someone else."
Written by Janice Kaplan